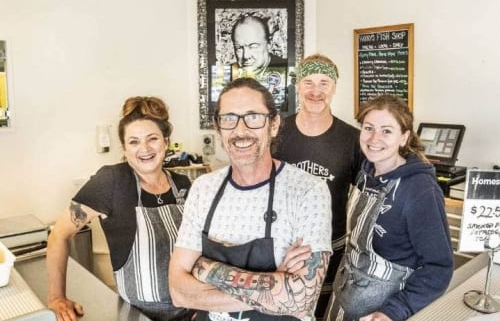 Howard (Harry) Morris has been a fixture in the Nelson restaurant and food scene for a couple of decades, initially as the chef at The Cut restaurant that he owned with Rob Fanselow then the two of them opened Harry's in Hardy St before relocating to the top of Trafalgar St.
When Harry sold Harry's Bar, he wanted to stay in the food industry but not be working the unsociable hours that running a bar and restaurant often involves. When he saw that the fresh fish business on the entrance to Marble Arch Arcade was for sale, Harry could see the opportunity to use his cooking skills to add value to a great little business.

Harry's Fish Shop is the place you can buy fresh fish as well as beautifully crafted meals ready for you to buy for lunch or take home for dinner.
The fresh seafood comes from the local fisherman he bought the shop from, Andy and Simone Kenton. Harry says, "Andy bought a second boat and felt that looking after the fishing business was going to be enough and decided to sell the shop with an ongoing fish supply in place.
"Andy is one of the few independent local fishermen left in the region; his dad fished, so it's in the blood and his focus had to be on fishing not running a retail business."
The fish shop business was built on the quality fish that Andy's boats catch along with a few other suppliers, including locally speared Butter Fish and Blue Cod from D'Urville Island. The supply of fish is always slightly varied with the weather playing a big part in when and how much fish is available.
"We have another couple of regular suppliers, Mt Cook Salmon and Donna Wells, owner of Finest Kind, and we get smoked fish products from Aqua Fresh who also do the smoking of the Mt Cook Salmon for the shop."
Harry also has an expanding variety of accompaniments for sale, from fish coatings to dressings and sauces. "This is another part of the business that will be expanding, in time, to offer an assortment of accompaniments to compliment the fresh fish."
As to the future of the business, Harry says "it is a work in progress I don't have a set outcome as to where it will end up, retail is very different to hospitality so I'm still learning as we go. There are a lot of options we can offer over time, and I am looking forward to seeing how it all grows. With the stop-start that this year has provided my plans for moving forward slowed a little, but since coming back after lockdown the changes are happening at a good pace."
He has started preparing dishes available to buy and reheat at home. "There are a few regular items like smoked fish potato-topped pie and different flavoured quiches, some flavours are standard like the salmon and caper or the smoked fish and caramelised onion, but we also produce other flavours depending on our mood on the day."
Recently Harry's Fish Shop has added a small lunch menu with both hot and cold options "Fish & Chips, Ceviche, Prawn Roll with cocktail sauce and Chili Salt Squid which is still as popular as it was on the menu at Harry's. Having a blackboard menu enables changes to be made easily."
Most of the lunch options are cooked and made to order, so there is still a bit of kitchen service happening. "We plan this to make sure we can operate quickly as the lunch break for most people is only 30 minutes and we are already getting pre-ordered lunches, making it easier for us and the customers."
Of course, you get great advice when you visit Harry's Fish Shop, both of his staff have a background working in the hospitality sector, "Rachel spent five years working on fishing boats too so has fantastic fish knowledge while Rachael's trade has been in hospitality, together they are both very customer focused."
They are a small but talented team at Harry's Fish Shop and together they provide great service and knowledge, as well as the high-quality food Harry has delivered in Nelson for many years, every time you visit them in the Marble Arch Arcade on Montgomery Square. www.harrysfish.nz
https://www.savage.co.nz/wp-content/uploads/2020/12/16055735601782-e1606534919848.jpg
500
500
Neil Hodgson
https://www.savage.co.nz/wp-content/uploads/2014/07/logo-left.png
Neil Hodgson
2020-12-03 13:08:48
2020-12-03 13:08:48
HARRY'S FISH SHOP