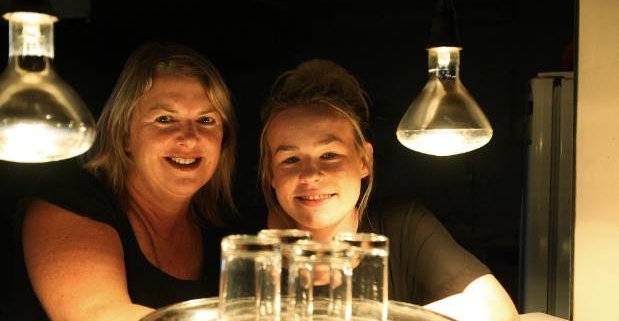 Carol Shirley & Gourmet Catering – Nelson Mail 18.07.18
I first met Carol Shirley, the owner of Gourmet Catering, many years ago when she took over running the café at the old Maitai Bowling Club at the bottom of Trafalgar St, she made delicious food for members of the club as well as members of the RSA and City Clubs that shared the bowling club's premises before membership dropped to a level all three clubs merged with others in the region and the facility was sold.
Because the various clubs didn't require a full-time food service Carol was able to use the kitchen at the club for her own small catering business, a business that has changed over the years, evolving into what I think is Nelson's top catering business.
We have used Carol's catering services at our office several times and I can fully understand why her business has gone from strength to strength, the food she delivers is both generous and delicious while the outstanding service she and her staff provide always has a smile attached.
Carol has joined forces with Lincoln Womersley, who used to own Blinc Catering, for large events that require two chefs as well as her staff to manage the workload, this partnership was a shining light at last year's Nelson Tasman Chamber of Commerce Business Awards dinner, they served some of the best food I have had at a function for 400+ people.
I arranged to have a coffee with Carol at our office to book some more catering and to find out a bit more about what makes her tick, and her business so successful; the second part of is easy, she is a generous person and just wants to make people happy by making fresh, interesting and good value for money food.
Carol has lived in Nelson since she was six years old and other than ten years working in the hospitality sector in Australia in her twenties her working life has been spent here, she started working at a wine bar called Valeno's (where Subway is now) on her return from Australia and she realised there was a gap in the catering market here.
In 2003 she decided to start her own business, "my father thought I was crazy, he said I would have more chance of finding a husband than running a successful business in Nelson so that was enough motivation for me, I set out to prove him wrong."
Carol started selling food out of baskets, "I had three runs around town, turning up at offices and retail shops selling things like muffins and sandwiches for morning teas and lunches, I gave out flyers about my catering and it didn't take long before people ordered catering for office shouts and then business functions."
The business grew quite quickly so in 2004 she bought The Lunch Company in Vanguard St, It wasn't great as a lunch bar but was a perfect catering base and prep kitchen for the bun run."
When her catering business outgrew the premises in Vanguard Street she took over the kitchen at the Maitai Bowling Club, "the RSA  had just moved there but making food for them was only a small part of the business, having the larger kitchen I could use for catering was the thing that really attracted me to the site."
In about 2009 when the Bowling Club, RSA and other clubs using the building started going into decline her long-term future at the premises was uncertain, "the Grape Escape came up for sale so John Appleman and I bought it, he had been out of the restaurant business for a couple of years but like all chefs, he loves cooking so we formed a partnership to turn the run down café into the thriving café it is today.
"We also developed a quite large catering business as part of it." A highlight of this partnership was winning the 2010 Chamber of Commerce medium size business award.
After three years  she decided she needed a break from the food business, "I wanted to do something different, I didn't know what but I sold my shares to John and took a year off."
After that year off she had the passion for food back and decided to get Gourmet Catering going again with a focus on wedding catering and for the past two years Gourmet Catering has been the resident caterer at the Tasman Bay Cruising Club, Carol runs the catering business from there, "it works very well for us, it is a really convenient location and we can promote the venue for functions too."
While the main focus for Gourmet Catering is weddings, and large events the  general catering side of the business has had a rapid growth.
Carol told me funeral catering has also been a big part of our growth, she personally meets with the families to discuss options to ensure their life celebration is exactly what they want.
"Last year with growth of the business we found a need for people wanting simple, fresh and delicious food in a gourmet buffet style setting, cocktail style foods without staff on hand to pass the food around, so we started offering a service we called 'Gourmet Grazing' and it has taken off too."
We had a grazing table for our staff Christmas and can testify to the quality, the grazing table we had was packed with delicious food suitable for everyone, from treats for the kids to a beautifully cooked whole salmon it was perfect for us.
Last year Gourmet Catering served 430 at the Nelson Tasman Chamber of Commerce Nelson Pine Industries Business Awards at the Trafalgar Centre, "we have catered the Nayland College school ball at the Trafalgar Centre and with the ball season approaching we have three of the college balls this year as well as the Steampunk Ball at Annesbrook Church, it means long days but being able to work with Lincoln on these events makes it fun and so much easier."
In the last 12 months the business has continued to grow rapidly but I know from experience that if anyone can handle the pressure, remain sane and keep smiling it will be Carol, she is a catering star.
https://www.savage.co.nz/wp-content/uploads/2018/08/1531783759242.jpg
349
619
alpha
https://www.savage.co.nz/wp-content/uploads/2014/07/logo-left.png
alpha
2018-08-14 11:24:21
2018-08-14 11:25:22
Carol Shirley & Gourmet Catering – Nelson Mail 18.07.18