As we get very close to Christmas and the annual struggle to find the perfect gifts for people we care about, there are lots of local options, be it wine or gourmet treats to enjoy over a few days I think a food and beverage gift is a lot better than a trinket that will never be used.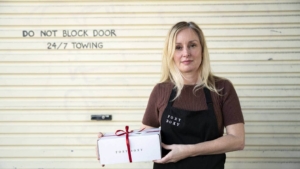 If you're not sure what to buy the local gift box business Foxy Boxy is here to help. Last week I caught up with owners Melissa and Charlie Evans to find out just what they can do to help you find the perfect gift for everyone this Christmas that showcases local Nelson products.
As Charlie says "we cater to a wide range of gift givers, from businesses who want to give something to staff or clients as well as individuals looking for something special", but a big part of their business right now is people sending gifts to family and friends in Auckland. "With Covid and families not being able to visit one another people are sending lots of gifts, people want to stay connected so there's lots of 'keep your chin up' type messages."
Charlie and Melissa met in Auckland and, as all young Kiwis do, headed off to explore the world, travel and have adventures overseas. While living in Canada, Melissa was looking for something to send to her mother in New Zealand, "I wanted to buy a gift for my mum that was just a wee bit special with something that was a real treat for her but I couldn't find a gift box suitable for her at the quality I wanted."
This is how the idea for Foxy Boxy was born. "Because I couldn't find anything that ticked the quality and presentation boxes, we saw an exciting business opportunity which we could do really well when we returned to New Zealand. With our backgrounds in graphic design, e-commerce and marketing, we knew we had the skillset to create an awesome business."
When they set up Foxy Boxy they knew that to be successful in a competitive gift-giving market they had to focus on three key things; firstly the quality of the product had to be excellent, without compromise. Secondly the design of the products and gift packaging had to be both enticing and scream quality and finally their service had to be exceptional.
Melissa says it's important to have premium products that also looked stunning when the box was opened. "The look of every product is important and how it's presented it is vital. "
Melissa told me one part of their success is that they are really fast on delivering gifts, "We use our courier partner's express overnight service which enables our gifts to be delivered as fast as possible throughout NZ, this is really important."
Many of their gift box options have local products as well as premium products from other regions. "We test all our products and we only select products that wow us. If they don't wow us they won't wow the gift recipient and we want people to be really excited when they receive the gift.
"A lot of thought goes into preparing the gifts, we think of it as a curated gift box rather than filling a box with void-fill (tissue paper) with some stuff from the supermarket, our boxes are full of product. We don't use any box fillers and have between three & twelve products in each box. When people receive it they keep finding more the deeper they dig. We make sure it's a fun experience for people."
"A lot of our customers in Auckland love the fact we stock premium South Island products. Many of them have visited the Nelson region so it's also a reminder of places they have enjoyed visiting. We are perfectly positioned in Nelson to be able to source fantastic products that can be delivered to us quickly by our suppliers and for us to ship around the country."
Melissa and Charlie think their suppliers are the best in New Zealand and they work with a range of fantastic local suppliers like Hogarth's Chocolate, Eddyline Brewery, Yum Granola, Dancing Sands Gin and Living Light Candles. (check the suppliers page on their website).
One really important local product for Foxy Boxy is a Royce McGlashen mug with a heart on the side, "they make it exclusively for us and we sell heaps of them" says Charlie. "Royce loves working with people who want something special and it's always a pleasure to go and see them."
Some of their most popular gift boxes are the wine and nibbles gift and the gin tasting gift box but they also create a range of special seasonal boxes. Melissa told me "Our Christmas Eve gift boxes are really popular. They are designed to open on Christmas Eve rather than Christmas Day, if you have a family of kids this is the anticipation gift for them."
Last year people in Dubai bought them as gifts for family in New Zealand and asked us to make sure we have them this year because they are one of the best things they bought."
The youngest members of the Foxy Boxy team are Melissa and Charlie's 2 kids, Sophia (12) and Nicky (9). "We love getting the kids involved and teaching them about running a business. Box folding and ribbon cutting make a great holiday job, but their favourite part is definitely taste testing our delicious products".
To find out more and give the perfect gift as a thank you, get well or celebration check out www.foxyboxy.nz
Published in the Nelson Mail 03-11-2021
https://www.savage.co.nz/wp-content/uploads/2021/12/Melissa-Evans-is-one-half-of-local-gift-box-business-Foxy-Boxy_sqr_sml.jpg
512
512
Neil Hodgson
https://www.savage.co.nz/wp-content/uploads/2014/07/logo-left.png
Neil Hodgson
2021-11-09 17:17:59
2021-12-09 17:18:58
Foxy Boxy