Rustic Cuisine on Rutherford St is owned by my two favourite French people, Mylene and Greg Auphan who used to own La Gourmandise. Their latest venture is to develop a range of French style foods in jars ready for you to take home and enjoy.
It goes without saying that when you are developing a new concept you need to earn a living so they took over the building opposite Nelson College for Girls and are producing the wonderful crepes and galettes everyone enjoyed at La Gourmandise as well as making cabinet food for morning tea, lunch and afternoon tea.
Rustic Cuisine is a regular morning stop for me, the coffee is too good to go past, and I have noticed a large number of regulars doing the same thing. The fact they sell outstanding pastries doesn't hurt their reputation for quality either.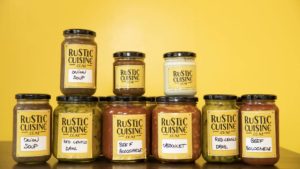 However it is the food-in-a-jar that is the future for this young business, Greg told me they have invested in high quality equipment so they can produce enough to take to a much bigger New Zealand market. He also told me he is developing new recipes and has had to refine how he prepares his current recipes because the equipment cooks the food quite differently.
"Because it's quite a long cook at a high temperature I need to adjust recipes to make sure the food doesn't break down in the jars, we are doing lots of small trials to refine everything before we go into full production."
In the meantime you and I get to try the new recipes he is developing before he adjusts the cooking process for each one. Dishes like Coq au vin, Beef Bolognese, Lentil Dahl, Onion Soup and their wonderful Cassoulet are prepared and packaged in jars ready for us to take home, heat up and enjoy.
My top tip for your next visit to Rustic Cuisine – if you see some in the food cabinet don't even try to resist the lemon meringue tarts, they are outstandingly tasty.
https://www.savage.co.nz/wp-content/uploads/2020/08/BRADEN-FASTIERSTUFF-Gregoire-and-Mylene-Auphan-of-Rustic-Cuisine-cafŽe-in-Nelson-are-establishing-a-new-business-that-they-hope-will-one-day-be-sold-all-around-the-country.jpg
697
1240
Neil Hodgson
https://www.savage.co.nz/wp-content/uploads/2014/07/logo-left.png
Neil Hodgson
2020-07-21 13:52:19
2020-08-11 13:53:09
Rustic Cuisine