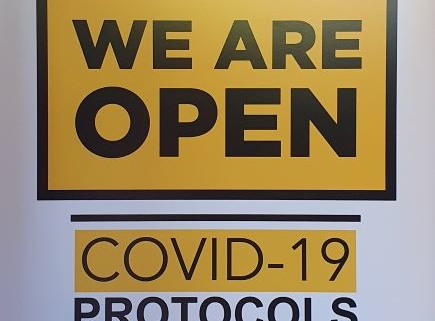 Covid-19 Weekly Update 20.04.20
As these unusual times continue there are a few things to remember – stay safe and shop local, shop local, shop local!
While we are in this lock down situation together we need to remember to help one another come out of it in as best shape as possible. The best way to do that is support every local business you can.
Various restrictions under Level 3 Lockdown may make it seem like Level 3.75 but at midnight on Monday 27th April some businesses will be able to start operating again, mainly without any public contact but with online or phone orders, contactless payment and similar things only.
Also if you are currently working from home you must continue to do so if it is at all possible. With that in mind we will NOT be reopening our office under Level 3 restrictions.
However Sari and our senior staff will continue to work from home. So far this has been a little frustrating at times but we are getting everything done you need us to do. We are also set up to use Zoom video conferencing so if you want to have some more personal contact then email us to make an appointment for a Zoom meeting. Anna and Libby are available Monday to Friday 9am 'til 5pm while Neil and Sari are available seven days a week, including evenings if required.
Here's a link from business.govt.nz for an explanation of various alert levels and operating guidelines for businesses
If you can't find an answer to your questions here then just email or phone us, we are here to help our clients through the challenging times ahead of us as we work on re-establishing our businesses again.
Things to Remember
March PAYE payments were due today
GST returns for the periods ended 31 March are required by the 7th of May, however if you will have difficulty in making your GST payment please contact us and we will help you sort out a deferred payment arrangement with IRD. It's important you put an arrangement in place rather than just not paying it.
If you have provisional tax (3rd payment for 2020 year) then this is also due to be paid. On 7th May As a result of recent government announcements about tax relief there has been some confusion around the need to pay this. If you have this due you must pay it as it is calculated on your year end 31 March 2020 figures, not current trading figures.
And of course remember to stay safe, don't let your social distancing standards relax because we don't want the community to be forced back into level 4 lockdown, and most of all be kind to each other.
Being kind includes supporting every local business we can so they are here for us to enjoy into the future, so look for local business offering deliveries from the 28th April, buy from them and use other local service providers – shop local!
https://www.savage.co.nz/wp-content/uploads/2020/05/Covid-19-poster-small.jpg
574
435
Neil Hodgson
https://www.savage.co.nz/wp-content/uploads/2014/07/logo-left.png
Neil Hodgson
2020-04-20 10:28:37
2020-05-28 10:32:50
Covid-19 Weekly Update 20.04.20