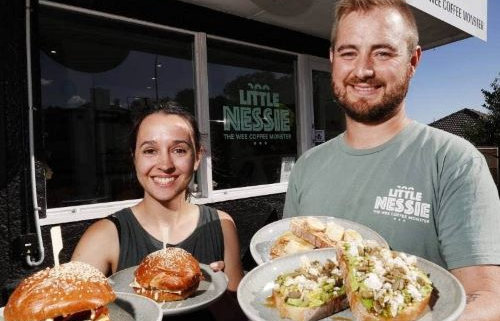 Little Nessie Cafe – The Wee Coffee Monster
I love positive people and I don't think anyone who opens a new café in the middle of the Covid-19 pandemic could be described as anything but positive. Gareth and Hayley Lewis decided to do just that and opened Little Nessie Café at the Black Cat shops on Annesbrook Drive in August 2020.
Anyone would think that opening a business during Covid-19 Level 2 would pose the biggest hurdle for their new business; but this was not the case. What they hadn't counted on was six months of significant road works resulting in road closures right outside their business just four weeks after they opened the doors.
When I caught up with them last week their great attitude and the support from locals means this little business is still on the right track despite the challenges so far. Hayley says "we are surprised and incredibly humbled at the support we have had from so many people but especially our local and regular customers."
This small café appears to have been a very welcome addition to the neighbourhood. Hayley and Gareth offer specialty coffee, a small but mighty menu that that you can enjoy inside, on the small deck or take away. One thing that really struck me about Little Nessie café is the cozy, welcoming atmosphere, it is a place you can just pop into for a quick coffee or linger over a meal or pot of tea.
Little Nessie cafe is an evolution of the food truck the couple ran in Brisbane until the Covid-19 Pandemic hit in March 2020. As Covid cases began to rise in Queensland, the couple decided it was time to come home with their family and just 12 days later they landed in Auckland, arriving two days into level 4 lockdown where they completed two weeks of self isolation before continuing on to Wellington and finally Nelson.
Reflecting on their journey, Hayley says "Having the food truck was great because we got a feel for who we are as a business. In many ways we are grateful for the opportunity Covid-19 allowed us – we were able to take our learnings from the food truck in Brisbane and start over with a more refined offering."
"We have the staples that reflect who we are, particularly the Scottish Brekky Burger which is the most popular thing on the menu. It includes our homemade Lorne sausage which is like a cultural icon in Scotland, everyone's mum or nana makes it. You can get a slice in a roll almost everywhere. It has been so popular with our customers people are coming from all over the region asking for 'square sausage' or Lorne, so we now sell it packaged for customers to take home."
Having worked in the corporate world for several years they decided to use the marketing and business skills they have developed over the years to establish their own business. In 2019 Hayley was nearing the end of her maternity leave after having their first child Maisy while Gareth was working as an insurance broker. Feeling uninspired by his day-to-day work and after a particularly tough day in the office, they finally decided to buy their food truck and find something that would make them both excited to go work everyday.
Gareth says "We have always known we wanted to own our own business. We figured a small café would be a great place to start and allow us to spend more time together as a family which we couldn't in our old roles."
When it comes to the food they make Hayley says "We know what we like and hope others like it too, we want to be part of the great café culture here."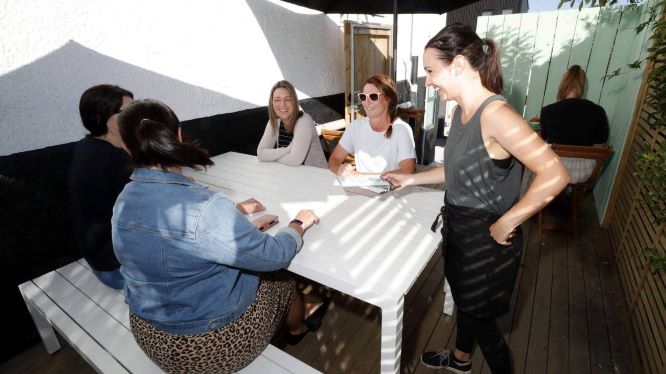 "So far the feedback from customers has been great. We are sort of waiting for the negative, hopefully it will never happen, but we have been surprised at how positive everyone is about us and our little business."
The original Little Nessie food truck has been back on the road in the last few months taking their delicious coffee & food to various events around the region and is available for private hire.
So if you're looking for a new place to try and want to support a local business that is facing the challenges of Covid-19, road works and whatever else can be thrown their way with a big dose of positivity then pop into Little Nessie Café for a visit. I know this hard-working couple will reap the rewards of self employment, they have a wonderful attitude and make great food. Open from 7.30am to 2pm Monday to Friday and 8am – 12.30pm on Saturdays.
Wine Pick
Neudorf Rosie's Block Moutere Chardonnay 2019, RRP $45 – 5 stars
When I first tasted this wine I instantly recognised the Neudorf touch. This is a new label for Neudorf Vineyards, the wine is made from 21-year-old organically grown vines on their hillside block and it's almost difficult to describe, it is simply elegant yet powerful – the classic iron fist in a velvet glove!
The underlying power of the subtle lemon citrus, white peach, softly toasted hazelnuts and delicate ginger spice flavours, the delicate use of oak, tight mineral characters and subtle intensity add up to make this a wine that delivers evolving flavours in the glass and on the palate. It's a very impressive debut for Neudorf's latest single vineyard wine. Due to be released next week this is one of the finest wines I have tried to date from the very good 2019 vintage.
https://www.savage.co.nz/wp-content/uploads/2021/03/Hayley-and-Gareth-Lewis-owners-of-Little-Nessie-cafe-in-Annesbrook-Nelson_sml.jpg
499
500
Neil Hodgson
https://www.savage.co.nz/wp-content/uploads/2014/07/logo-left.png
Neil Hodgson
2021-03-08 15:53:28
2021-03-08 15:53:28
Little Nessie Cafe – The Wee Coffee Monster