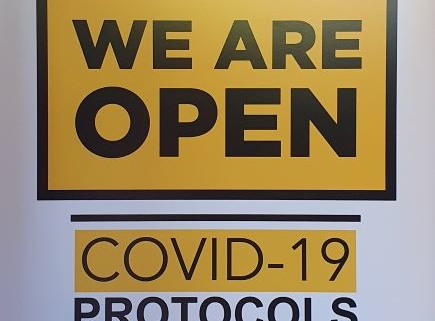 Well it has certainly been an interesting seven weeks; dealing with level 4 lockdown conditions and then easing into level 3 before finally getting back to a level of normal activity under level 2 conditions. Obviously things will never go back to business-as-usual as it was before Covid-19 raised its ugly head but we are able to get back to business and work on rebuilding our businesses.
Then we had the 2020 Government Budget announcements, a budget designed to make sure as many businesses as possible survive and are able to rebuild in a new economic environment.
Some businesses will never be the same, some will close and others will adapt and grow, taking advantage of the opportunity to revisit how they do business.
We reopen our office on Monday 18th May
with some Covid-19 restrictions in place.
While the office will be open please note Sari will still be working from home for a few more weeks. She is available for Zoom video conference meetings, on her mobile (021-548-489) or by email (sari@savage.co.nz)
Visiting our office
For us our focus will be on helping you as it always has been, the success of our clients is really important to us and to help you we need to make sure we have a workplace that is safe for you and our staff. This means if you do need to come to our office you will notice a few small changes that are designed to meet government requirements for operating under level 2 conditions.
We will have social distancing practices in place, there will be a table at reception for you to leave packages, there will be hand sanitiser readily available, there will be single-use facemasks available for you to use if you are meeting with a staff member and you will be required to register as a visitor to our office for contact tracing purposes whenever you visit, no matter how briefly.
Contact Tracing
We will be using the "I'm Here" contact tracing system, you will need to use your phone to scan a code when you arrive and depart. We have chosen this because it is a simple solution to use, however, our staff will be able to assist if you have any issues using it. There will also be a form to fill in if you don't have a mobile phone. You can check out the system at www.imhere.nz so you know what to expect when you do visit us.
The Budget
The one Budget item that will have the most impact immediately for many businesses is the announcement of an extension to the Wage Subsidy Scheme.
If your business has suffered a 50% or greater decline in turnover for a two month period then you are able to apply for a subsidy to help you pay staff wages for another eight weeks.
Small Business Loans via IRD
Announced before the budget but included in the overall Covid-19 response package is a loan scheme for SMEs. The scheme (https://media.ird.govt.nz/articles/government-boosts-cashflow-support-for-small-businesses/) for SME's is to be administered by IRD. This will be interest free for 12 months or low interest for up to five years with no repayments for the first two years if you take the low interest option. It will be administered through IRD and provides for loans of $10,000 per business plus $1800 per employee up to a maximum of $100,000.
While we can't make the application for you we will give any of our clients up to an hour free time to help you with your application, just email Sari, Anna or Libby to arrange a time to talk.
We hope you are all staying safe and we're looking forward to talking with you sometime soon.
https://www.savage.co.nz/wp-content/uploads/2020/05/Covid-19-poster-small.jpg
574
435
Neil Hodgson
https://www.savage.co.nz/wp-content/uploads/2014/07/logo-left.png
Neil Hodgson
2020-05-15 15:34:29
2020-05-28 15:39:38
Beyond Covid-19